Transporter Tingles
What's going on in the transporter room? There are a lot of unexplained intraship site to site transports but the logs have been erased. Who is doing it and why?



Rules
Your entry must be J/C.
Your entry must fit the description or theme of the contest.
Please, no "Tuvix" type stories. There was a contest for those stories last year.
Any rating is acceptable but it must be clearly marked.
Co-authored stories are welcome.
One story per category may be entered by each author or co-author team.



Categories
Old stories: stories that have been shared with others, posted to your web site, an archive or to a list. We'll even let you enter one that has been in another contest.
New stories: this category will be anonymous so it pretty much has to be one that has not shown up on your site, in an archive, on a list or shared with others in any way, and being entered in another contest is not going to be viewed with favor.


Dates
Enter July 1 - August 1
Vote: August 2 - August 31
Winners: September 6



Commendations
We will be issuing commendations based on the number of entries. They will be similar to this: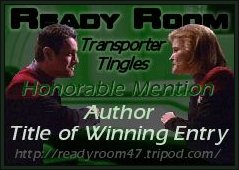 This is for your 'old' entry so people who like it can come and vote for it.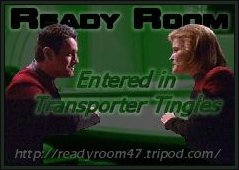 If you have questions, please email the Captains



Link to us:



Join our mailing list: